3D SCAN
Figures, sculptures and duplicates
Due to a range of different scanning technologies, we are able to digitalize your object within the blink of an eye.
This scanning technology is particularly suited for spares, art objects or sculptures. Once the digital 3D model is developed, still last minute changes can be performed before printing the object in real.
Smartphone Video
No matter where you are, take a video of yourself using your smartphone. Make sure lighting is smooth and the environment is quiet (no movements in the background), keep a distance of 2m towards your person or object, start on the backside with your video device in landscape format and move 360°. The video should not be longer than 40 sec. Finally, just upload the video via the upload link or wetransfer. That's it!

Virtual 3D figures

As soon as we receive your video, we start to develop and model your 3D model. After a series of optimization processes, your model is ready for printing!
3D print and shipment

Layer by layer your coloured 3D figure is taking shape – your little copy of yourself! A few refinement stages and your model is ready for shipment. From receiving your video until delivery we are calculating with 2-3 weeks only!

Preise
| | Figur mini | Figur maxi | Portrait mini | Portrait maxi |
| --- | --- | --- | --- | --- |
| Größe | 15cm | 20cm | 6cm | 10cm |
| Preis | 229€ | 249€ | 89€ | 159€ |
| Re-Print | 139€ | 159€ | 69€ | 99€ |
| | | | | |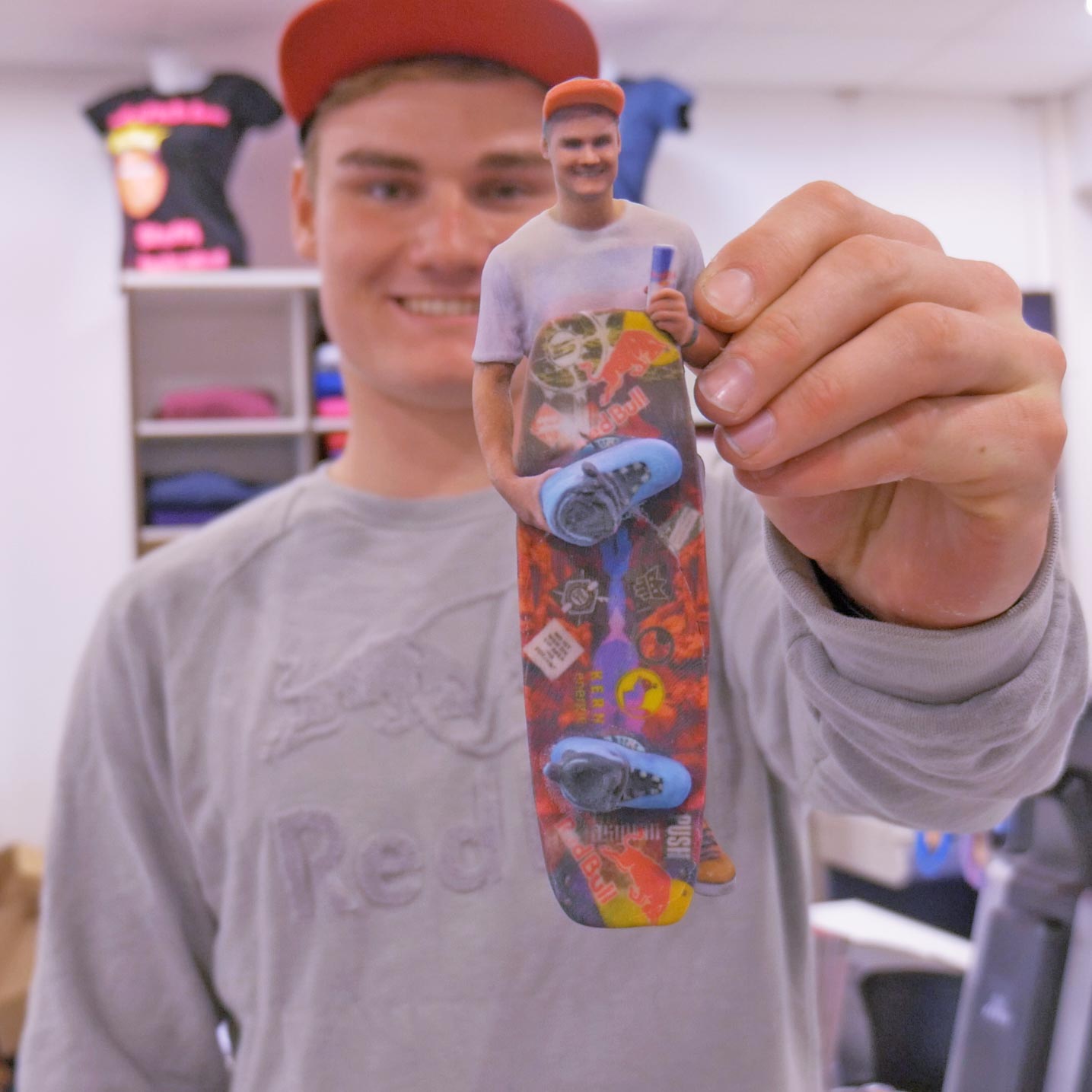 How to dress
Dress according to your individual style, feel comfortable. The more colour, the more structure the better. Shirts or hoodies with rich colours let your 3D figures shine!
VOUCHER
Whether it's a birthday, Christmas or Easter, all those occasion keep on surprising us when they arrive, don't they? A RICHTIG DRUCK gift voucher allows you to ease your stress and can be ordered either via mail.
Accessoires
Glasses
Glasses with relatively thick frames are possible to print within Portrait Maxi. We offer 3 different model for you to choose, in order to ensure the glasses don't break during printing. Costs for adding glasses are € 29,-.
Logos
In general any changes or adjustments are possible upon request. You would like to show your logo on your shirt, just send us your logo via email. Costs for adding your logo are € 29,-.
Smartscanning
Your private moment everytime, everywhere. Smartscanning process is 60€ more. For more informations contact us.